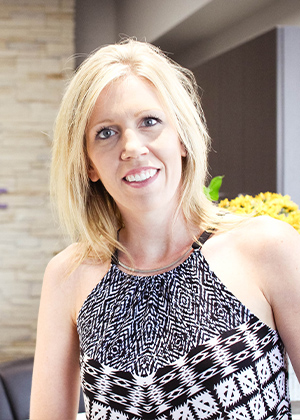 Dr. Jessica joined the River's Edge Dental Clinic team in practice in 2008. She enjoys being at the cutting edge of dental technology. Her focus is on comprehensive, cosmetic, and implant dentistry.
Dr. Jessica is a graduate of the University of Minnesota's School of Dentistry. She was one of the youngest doctors nationwide to attend the rigorous University of Minnesota's Postgraduate Program in Esthetic Dentistry. She has also attended the Las Vegas Institute (LVI), a yearlong implant continuum at the highly regarded South Beach Dental Institute's implant seminar held in Boston, and various other training programs to further her education in the dental field.
Dr. Jessica's goal is to be able to provide the absolute best dental care possible to her patients, which is why she chooses to further her education by attending prestigious elective courses in cosmetic, endodontic, periodontal, implant, and orthodontic dentistry.
Dr. Jessica is a very caring and compassionate person who places her patients' oral health care needs above all else. She prides herself on performing gentle dentistry while maintaining a high quality of care. She enjoys treating patients of all ages and providing a wide variety of dental procedures.
Dr. Jessica recently went on a mission trip to the Dominican Republic where she performed oral surgery extractions, bone grafts, sinus lifts, and dental implant surgeries, allowing underprivileged patients to have access to high-quality dental care. It was truly a unique and humbling experience that she looks forward to doing again someday.
In her spare time, Dr. Jessica enjoys spending time with her family and friends. She and her husband enjoy traveling, bike riding, tennis, golf, and various other outdoor activities.
Memberships and Accreditations
Dakota County Dental Society
Lumineers certified
Las Vegas Institute (LVI) participant
University of Minnesota's Postgraduate Program in Advanced Esthetic Dentistry graduate
South Beach Dental Institute Dental implant seminars graduate